Artist Eriz Moreno in residence at IZOLYATSIA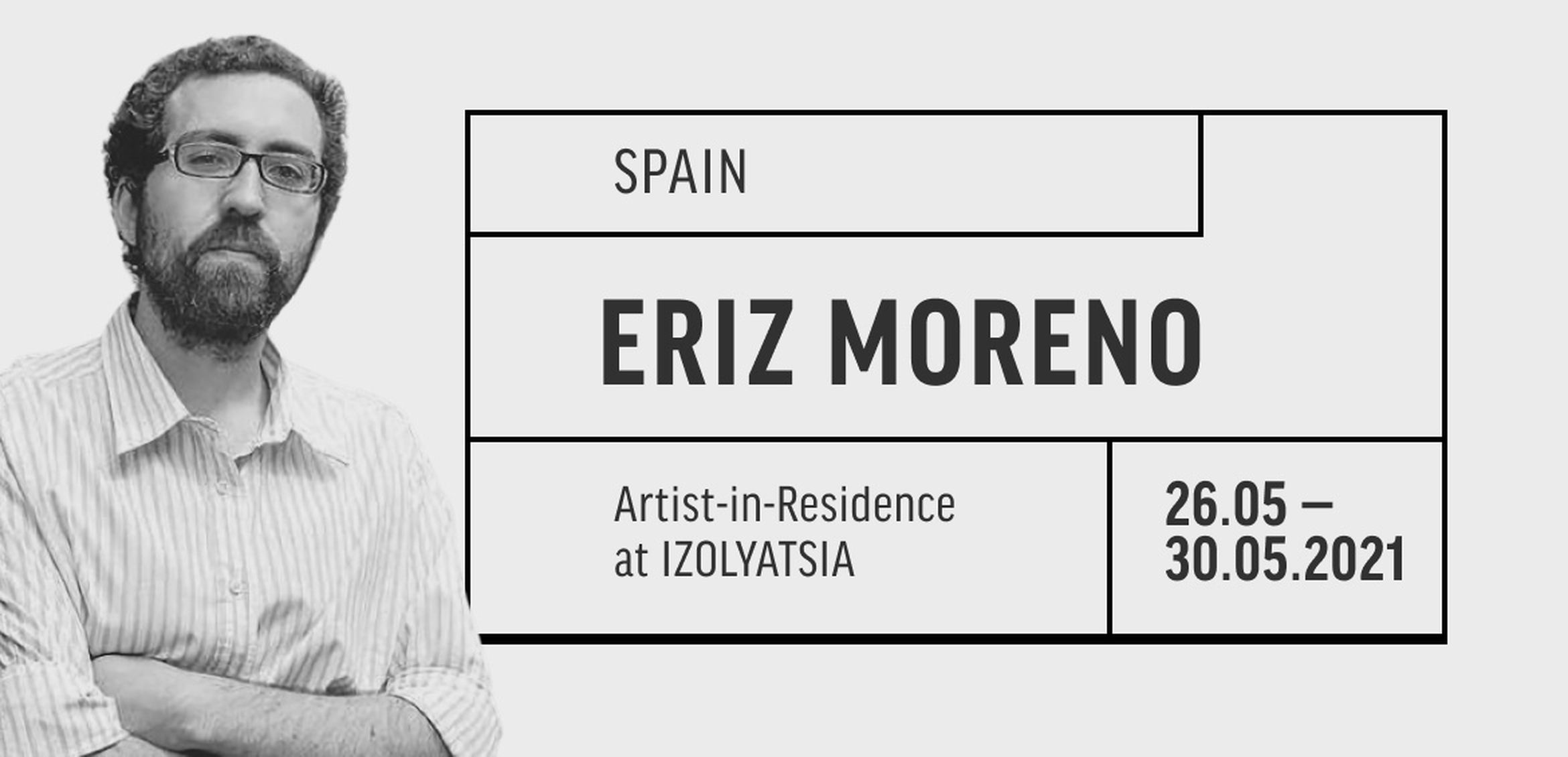 26 May 2021 — 30 June 2021
May 26 — June 30, 2021, artist Eriz Moreno is in residence at IZOLYATSIA.
As narrated in Percy Bysshe Shelley's sonnet Ozymandias (1818), the decline of all leaders and the empires they built is inevitable, no matter how powerful they were in their time. In recent history there have also been political changes with which several of the world powers that were considered indestructible ended up disappearing. Just as the case of Ozymandias is described with ancient Egypt, today we can also find the decontextualized ruins of these powers.
It is said that history does not repeat itself, but it rhymes. In the project here presented, Eriz Moreno continues with this line of artistic work and research. In his artistic practice, the projects are mainly related to specific historical-political contexts and their effect on a population or a landscape, and in this case, the context is related to the end of the 20th century. A period of multiple social and cultural changes in which the Soviet Union ended, of which only their vestiges remain.
Moreno's work is centred on the iconic presence of history in today's everyday life, reading its symbols, experiencing, intervening and interacting with it. His aim is to establish connections in order to obtain new readings from it.
Eriz Moreno (Bilbao, Spain, 1982), his artistic practice is mainly related to historical-political contexts and their effect on a specific population or landscape and with a work format based on the creation of files (of photographs, videos, books, objects, etc.). The sum of these conditions gives him the method to face creative decisions individually in each project (taking into account: what, how, where and why) and its subsequent exhibition, usually in the form of an installation and/or publication. Motivated by his interest in publications related to the territory and landscape in September 2020 he defended his PhD: The road trip and the photo essay as place experiences (United States of America, 1958 – 2012).
Because of his interest in creating artworks related to the territory he has received several grants and awards to carry out projects in Austria, Germany, Greece, Iran, Macau, Poland, Romania, Turkey, USA and former USSR and Yugoslavian republics.
Among the exhibitions held after 2013 stand out the individual exhibitions: Projekt Beton at the Żak Gallery in Gdańsk (Poland, 2013), the Regional Museum of Szczecinek (Poland, 2013), and Ariz Culture Center (Spain, 2018); 18/19/2013 on the occasion of the 200th anniversary of the Battle of the Nations made in the public space of Leipzig (Germany, 2013) and at BilbaoArte Foundation (Spain, 2014); Bratstvo/Jedinstvo at Sala Rekalde (Bilbao, 2016), Torrene Culture Center (Spain, 2017) and Noáin Culture Center (Spain, 2018); Du – Dein Leben – Deine Zeit in Kultur Leioa (Spain, 2020) a cooperation project about comparing the image of women in women's magazines from the 1960's in Spain and the German Democratic Republic; and Transfăgărășan în Cervantes Institute of Bucharest (Romania, 2020), where he exhibited the photographic analysis of a road trip.
Remarkable collective exhibitions include: "Horizon" (2013) at the Guggenheim Museum in Bilbao (Spain), 9.980 km. El horizonte que nos separa (2014) at DA2 Center of Contemporary art of Salamanca (Spain), Wo wir sind (Donde estamos) (2015) in D21 Kunstraum Leipzig (Germany) and …at least a provisional way to settle somewhere (2017) at Montehermoso Cultural Center in Vitoria (Spain), an initiative of San Sebastian 2016, European City of Culture; and the participation in the following art festivals: "Meeting Point" (2015) at the Kunstverein Konstanz (Germany) and Kunstraum Kreuzlingen (Switzerland), during the 600th anniversary of the Council of Konstanz; and Home Sick Home (2018) in Kitzscher (Germany); and Mahaia in Bilbao, Pamplona (both in Spain) and Bayonne (France).
On June 23 he will give an Artist Talk and tell more about the outcome of his residency.
Residence funded by the Finnish Cultural Foundation.
The project was supported by the Arts Promotion Center Finland.