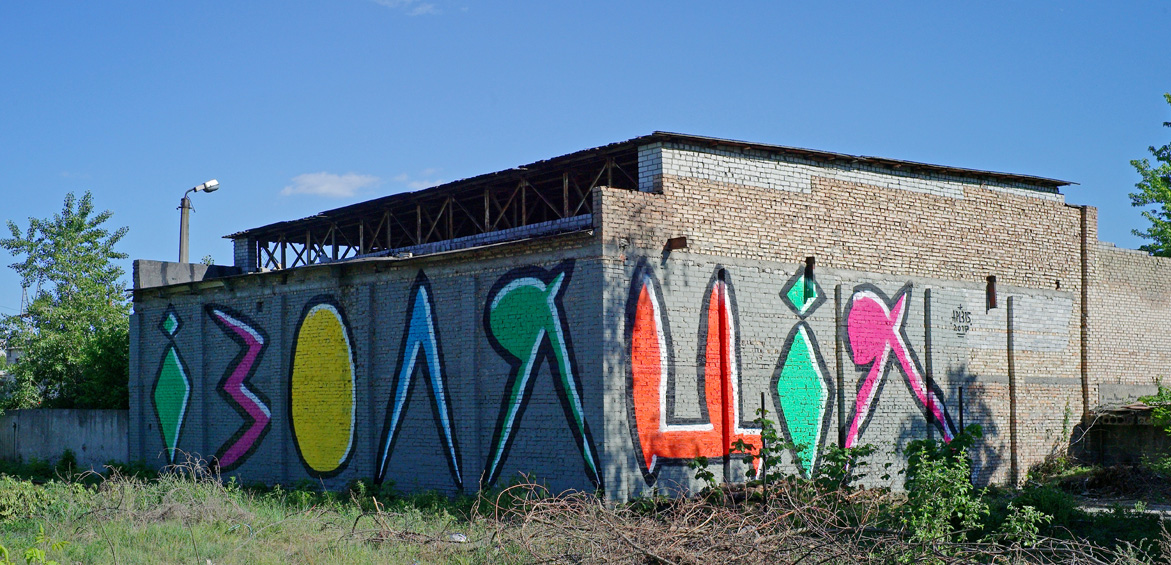 Marking the third IZOLYATSIA Day, street artist APL315 created a new mural on the territory of the IZONE Creative Community in Kyiv.
The work revives the IZOLYATSIA graffito on the territory of the insulation materials factory in Donetsk APL315 created in 2011. The installation made of reinforced concrete blocks was one of the foundation's landmarks in Donetsk. In 2014, after the seizure of IZOLYATSIA's territory, representatives of the self-proclaimed "Donetsk People's Republic" dismantled the installation, and the concrete blocks were used to build roadblocks.
On June 9, 2017,IZOLYATSIA marks the third year in exile. On that day, in 2014, the territory of the insulation materials factory in Donetsk hosting the foundation was seized by the armed representatives of the "DPR" who declared their intention to use the space for the storage of Russian humanitarian aid. In reality, the area is currently used as a military base, a prison, a store for stolen cars, and as a setting for Russian video fakes. After the evacuation, IZOLYATSIA's team has continued working outside Donetsk and resumed their activities in Eastern Ukraine, Kyiv and internationally.
More about this year's IZOLYATSIA Day here.
Media partners