Artist Vitalii Shupliak in residence at IZOLYATSIA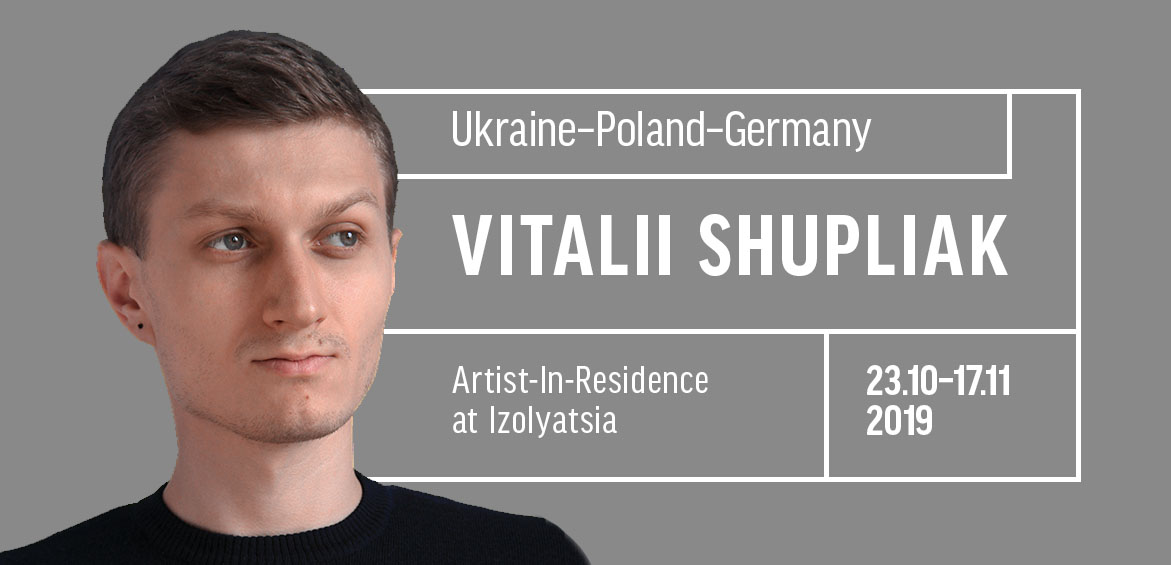 23 October 2019 — 17 November 2019
October 23 — November 17, 2019, artist Vitalii Shupliak is in residence at IZOLYATSIA.
Vitalii Shuplyak is a young artist born in Berezhany (Ukraine), currently living in Germany. He is engaged in video, installation and performance, he is the founder of Pi Gallery and Carrousel group`s member. Vitalii is the author of nine solo exhibitions and participant of more than fifty group exhibitions.
Vitalii studies the aspect of broad understanding of the identity, as well as consequences and impact of the phenomenon of migration. Observing the overall deepening and growth, which some call "the migration crisis", it reaches the rank of a global problem. In his creative activity, considering his own identity, Vitalii tries to provoke these questions and make the viewer think about them, trying to avoid clear answers or easy decisions.
In his works, Vitalii explores the relationship between real and virtual worlds. By intensively focusing his observations on the use and impact of new media, he is exploring devices and how we use them. How do they change our perceptions of reality, and by influencing us, how do they change our own ideas and identities.
Vitalii raises up the question of whether something like "global digital migration" can be already identified. In our lives, as well as in the artist's work, virtual identity becomes more dominant than the true one. Vitalii is interested in research and analysis of modern society in terms of the impact of social media and everyday digitization. Works created by Vitalii often reflect on the topic of identity - the one we have or want to have, and the one we create.
During his residency in IZOLYATSIA, Vitalii intends to use his previous experience with spatial installations, performance, painting and drawing to create a series of works using atypical solutions that will combine new media, videos, installations and objects.
On November 8, at 7 PM, Vitalii will open his exhibition at IZONE Creative Community, (8 Naberezhno-Luhova St, 4 floor), and on November 15 he will give an artist-talk and tell more about the outcome of his residency.
See more works following the link: https://vitaliishupliak.com
Vitalii's residency is made possible thanks the EMERGENCE: Living Heritage / Reframing Memory project, which is supported and partially funded by the Creative Europe program.
Photo archive
Video archive