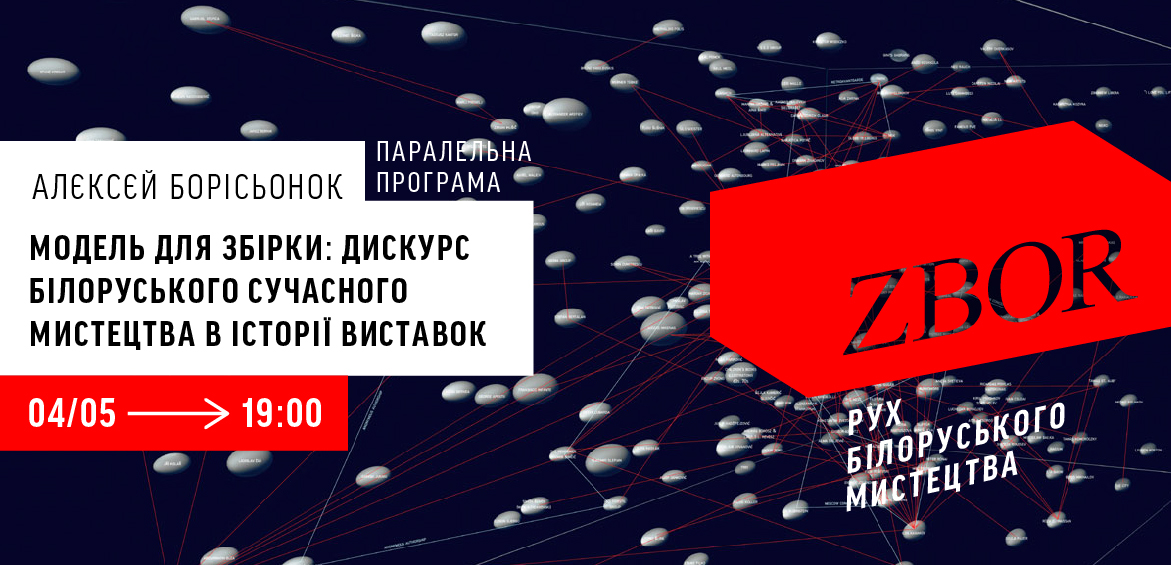 On Wednesday, May 4, at 7 pm, as part of the exhibition ZBOR. Belarusian Art Movement by IZOLYATSIA, curator and art scholar Alexey Borisenok will read a lecture Model for Assembly: Belarusian Contemporary Art Discourse in Exhibition History.
Borisenok's lecture will deal with the analysis of various ways of constructing a discourse of the contemporary Belarusian art through the exhibition history. Belarusian contemporary art in the broadest sense (addressing Belarusian issues, as well as referring to the artists' nationality) is part of the Eastern European art discourse, supposed to challenge the hegemony of Western art and production of cultural knowledge in general. At the same time, the place occupied by Belarusian contemporary art is marked by the so-called trauma of "non-inclusion" and "underrepresentation". This is well demonstrated by the dynamics of Belarusian artists' participation in important Eastern European art projects – exhibitions After the Wall (1999) and Gender Check (2009), and East Art Map project (1999-2006). Over the last 25 years, independent Belarus saw several attempts at conceptualising the history of contemporary art through the exhibition format as well. Among the most notable projects, Zero Radius (2012), 100 years of Belarusian Avant-garde (2014), Minsk. The 1980s Non-Conformism (2015) and others.
The exhibition ZBOR. Belarusian Art Movement and the eponymous collection of texts is also a form of historical selection offering a certain model for assembly of Belarusian art from late 1980s until today. The lecture will treat various assembly models of this discourse, its problematic aspects, as well as social and political conditions constituting it.
Alexey Borisenok is an independent curator and scholar, based in Minsk and Stockholm. He graduated from the Master's programme "Visual and Cultural Studies" of the European Humanities University in Vilnius, Lithuania. Borisenok has curated exhibitions in Ў Gallery, Maxim Bogdanovich Literary Museum (Minsk, Belarus), summer school in art research (Vilnius, Lithuania), participated in the Kyiv School (Kyiv, Ukraine). He co-founded KALEKTAR, an independent research platform for Belarusian contemporary art.
The lecture will take place at 8 Naberezhno-Luhova Street, Second Floor.
Media partners