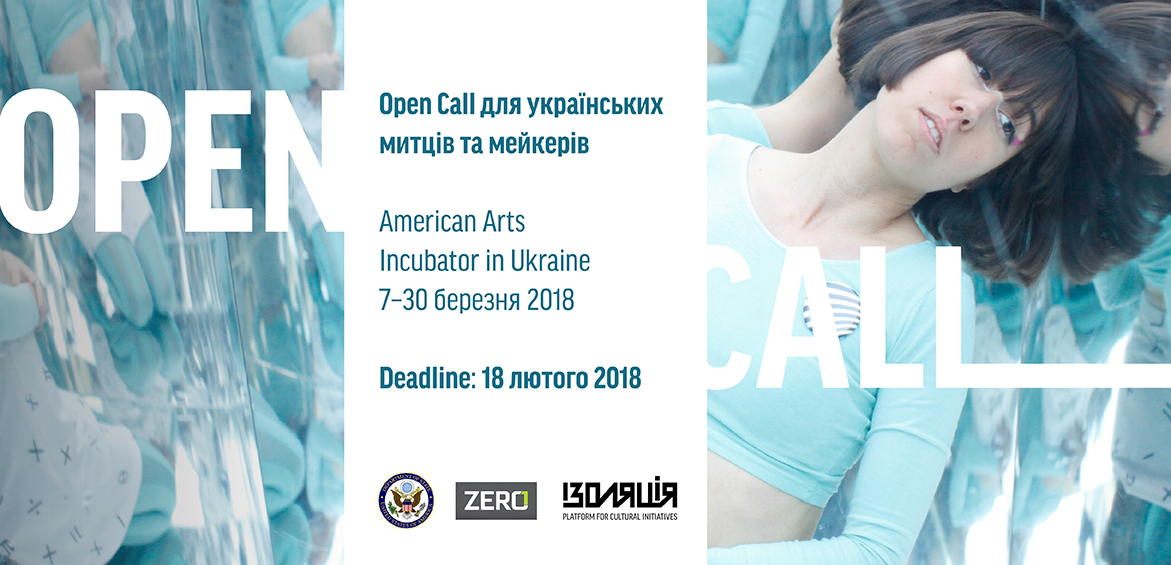 IZOLYATSIA, in collaboration with the U.S. Department of State's Bureau of Educational and Cultural Affairs that is administered by ZERO1, announces an open call for Ukrainian artists and makers to participate in the American Arts Incubator project which will be held at the IZONE Creative Community from March 10 until March 30, 2018. The project is based on a series of intensive workshops, the development of independent projects and the presentation of results in the format of a small exhibition which will be opened on March 29, 2018.
American Arts Incubator provides a small grant to fund the most interesting ideas created during the project as well as partial financial support to cover travel and living expenses for participants from other cities of Ukraine.
In March 2018, the American artist Tiare Ribeaux will travel to Kyiv for one month to lead the American Arts Incubator in Ukraine. She will teach workshops that combine art and technology skills to address identity, place, and the relationship of culture, industry and ecology in Kyiv and greater Ukraine.
Tiare Ribeaux is a Hawaiian-American new media artist and curator. She is the founder and artistic director at B4BEL4B Gallery which is focused on innovation, radical inclusivity, and the showcasing of women and underrepresented groups in technology and media arts spaces. She holds a deep interest in provoking conversation and uncovering truths around opaque global systems that intersect with our daily lives. Tiare has a background in fashion design and biotechnology, and has shown work both nationally and internationally, including ISEA Hong Kong, Transmediale Berlin, and Tokyo Fashion Week.
It is desirable to participate in the American Arts Incubator project:
- An interest in technology, new media, and/or digital art. Experience in the arts is a plus;
- An interest in exploring Ukrainian cultural identity;
- A desire to learn from new perspectives and new tools;
- A willingness to work and create in a collaborative environment;
- Age 18+ (participants under 18 can apply but must be partnered with adults on projects);
- Preference is given to participants from other cities of Ukraine;
- Youth, women, and people with disabilities encouraged to apply.
To apply, please fill in an online application form. Submissions will be accepted until February 18, 2018.
For more information, please contact Lina Romanukha, Project Manager in Kyiv
[email protected]
097 986 38 39
A global network of American Arts Incubator projects will emerge through an online exchange between American artists and international participants, with involvement from U.S. embassies as well as arts, culture, and education organisations. This network will demonstrate how public art and creative collaboration can be used as tools to build community, address pressing social challenges, and promote cross-cultural understanding. More information is available at americanartsincubator.org