Jozef Pilat Let's Make a Paradise Together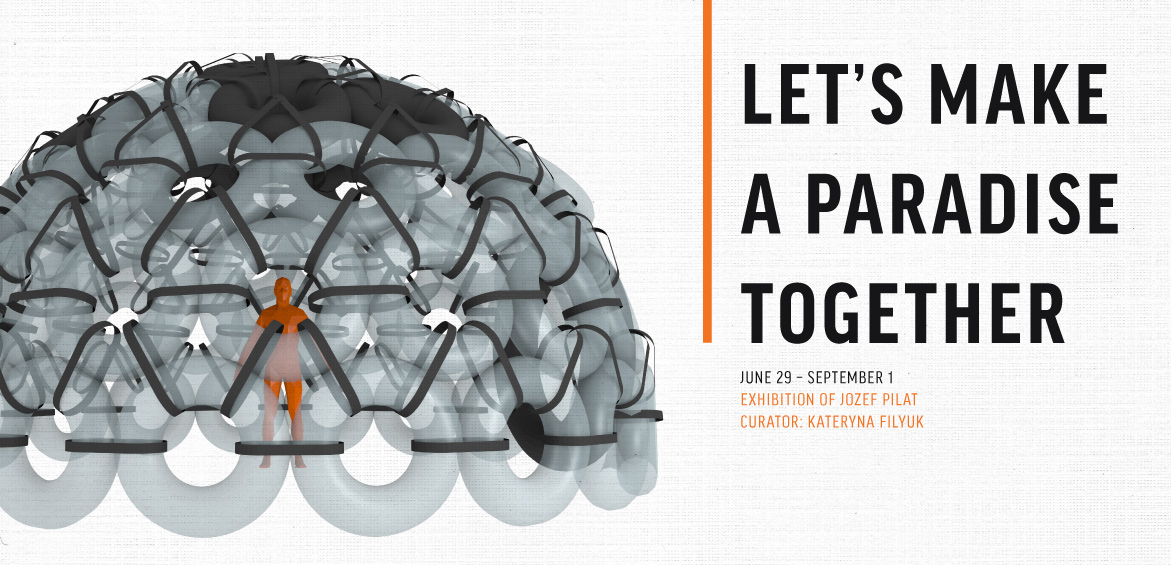 On June 29, 2019, IZOLYATSIA presents Jozef Pilat's project Let's Make a Paradise Together
Escape Scenario
How could a modern escape scenario form? How would it take shape?
What if a mass of citizens from any given country suddenly decided to withdraw from the existing social and political order and start from scratch in a new place?
In times when our existence within the Anthropocene, a human-dominated world, is beyond all question and planet Earth is becoming little more than an overcrowded Global Village, where else is there left to go?
These questions, posed by Slovak artist Jozef Pilat, form the very foundation of his project Let's Make a Paradise Together. Emerging from the striking story of Šuňava village in Slovakia, which stood boldly against Soviet collectivization, Pilat whirls through the wave of mass protest that for the last few decades has been sweeping the globe, landing definitively at the Maidan square in Kyiv, a central battleground in the 2014 Revolution of Dignity.
Playing by the same rules as fake news, the artist mimics the logic of alternative facts and borrows the instruments with which it's being constructed in order to construct a reality of his own. As with any fake news story, the tale he constructs is compelling. It is one of fugitives abandoning their home in a search of a new one where they can build a better world based on equality and justice. These desperate escapees end up on the Moon, the only place still free of human rule. It is only here they are able to build a new society.
For them Pilat erects a dome-like space station using a tire's inner tubes as material. This structure immediately evokes the now iconic imagery of tires burned by protesters during the 2014 revolution in an attempt to make their voices heard and force out the vicious regime in Kyiv. Inside the station itself boundless possibilities for a better world could be discovered and individuals could actively engage in their arrangement and development.
Undoubtedly in the last century Utopia has been an omnipresent sphere of thought for countless artistic inquiries ranging from the hopelessly pessimistic to the radically optimistic, dependent on a momentum that ebbs and flows in tandem with the here and now. With an awareness of this Jozef Pilat frames Utopia not as a place but rather a direction. For him Utopia is a path one takes that is driven by aspirations and dreams.
But not only artists see the potential of utopias.
In times when social institutions fail and rampant capitalism spins out of control, retreats from the western world and Utopian experiments in communal living emerge as one of the very few alternatives. In the title of the show Let's Make a Paradise Together Pilat invites us not only to imagine but also to proactively create a paradise together, highlighting that the goal can only be achieved by joining forces.
Will his dome on the Moon collapse or survive?
Perhaps that isn't the point. Instead what matters is the journey, and it is one that we must walk together if we are to reach our own Utopia.
---
Exhibition Details:
Artist:
Jozef Pilat
Curator:
Kateryna Filyuk
Project Manager:
Natasha Andrieieva
---
Exhibition opening:
June 29, 2019; 6 PM
Venue:
IZONE Creative Community; Floor Two
Naberezhno-Luhova, 8 (Kyiv, Ukraine)
Exhibition schedule:
June 29 – September 1, 2019
Monday to Sunday
10 AM – 8 PM
Entry is free
Project created in partnership with Publikum.sk
Published:
18 June 2019, 14:26